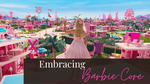 From Pantone announcing Viva Magenta as their Colour of the Year, to the pink-splashed runways at Valentino, Prada and Dolce & Gabbana, it's safe to say that Barbie-core is the trend of the season, thanks in no small part to Greta Gerwig and Margot Robbie's highly-lauded Barbie Movie.
While the doll has garnered some criticism over her 64 year history (particularly over her impossible beauty standards), modern Barbie has come a long way – currently she is available in 22 distinct skin tones, nearly 100 hair colours, and 5 different body types, providing a much more inclusive representation.
Want to incorporate Barbie-vibes into your look? Here are some of our top tips to keep you pretty in pink:
MAKEUP
A great way to ease into the plethora of pink that marks the Barbie-core trend is to add small elements of the colour to your makeup, like a hot pink lipstick or pink nail polish - bonus points if your mani and pedi match. We love Smith & Cult 'Extra-Ordinary' for that perfect plastic fantastic pink polish.
For a more obviously Barbie-inspired look, try a full face of tone-on-tone pink makeup – using the same shade of pink over the eyes, cheeks and lips provides a cohesive look that can be dialled up or dialled down depending on how much you layer your products.
For a true doll-like appearance, foundation should be full coverage but not too heavy or cakey, with a soft matte or natural finish. A small black winged liner and some fluffy lashes rounds off the look. Pro-tip: line your bottom waterline with a white or cream eye pencil to make your eyes look larger and even more doll-ish.
HAIR   
While blonde is the first thing that springs to mind when we think of Barbie, she comes in a wide range of hair colours – even the earliest iterations of the doll were available as a brunette or redhead, so don't let your hair colour stop you from channelling your inner Barbie!
One of the key aspects to achieving Barbie-worthy locks is having shiny, healthy hair. Regular trims to remove split ends will keep your hair looking lush, and adding some shine with a leave in-oil or shine spray (we love
La Biosthetique Glossing Spray
) to the final look will give that doll-like gloss to the hair.
Styling-wise, nothing is more quintessentially Barbie than a bouncy high ponytail with a flick at the end. Spritz through a
heat protector
with a light hold, and straighten your hair so it is smooth from root to tip. Style your hair into a high pony, leaving out enough hair for a side fringe if desired. Take a large barrelled curling tong and curl the very ends of the ponytail upwards, making sure the curls are all going in the same direction. Comb out the curl with a wide tooth comb to soften it.
If you
are
wanting to embrace the blonde, just keep in mind that Barbie-blonde ISN'T ashy, it is a bright, creamy blonde with a very soft warm reflect. Be careful if you're using a purple shampoo as it may make the hair look dull and less radiant - our favourite purple shampoo is
La Biosthetique Glam Colour
in shade Crystal as it has soft pigments that don't overtone the hair.
You can even take Barbie-core hair a step further by opting for a soft pink toner to add a pastel look to blonde locks, or adding some panels of pink extensions to any hair colour for a pop of pink.
SKIN
Barbie hasn't aged a day in 64 years, and her skin is always perfect. While this definitely isn't realistic for us mere mortals, we CAN make sure to take care of our skin to keep it healthy, glowing, and minimise any premature signs of aging.
Skincare doesn't have to be complicated. The best skincare routine is one you will consistently stick to; you'll get better results out of a two or three step routine that you do daily vs a 7 step routine you do every one in a while. At a minimum, we recommend using a cleanser and moisturiser formulated for your skin type twice a day, and a
gentle exfoliant
once a week to improve skin health and radiance.
Not sure which products are the right choice for you? Our friendly team are here to help.
Even if your job isn't 'Beach', it's still important to wear a
broad spectrum SPF
every day to protect against UV damage, especially with how strong the NZ sun is. UV exposure can cause fine lines, wrinkles, pigmentation, sun burn and skin cancer, even during the winter months, so SPF is a must-have.
Ultimately, Barbie is meant to represent power, feminine energy, fun and creativity, so let the Barbie-core trend be your invitation to play with fashion and self-expression and let your inner confidence shine – there's no right way to be a Barbie!