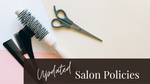 As the summer season approaches, we would like to extend our warmest greetings and take a moment to refresh you all on our salon policies. These policies are designed to ensure that every visit to our salon is a relaxing experience for you and all our clients.
CANCELLATIONS
We understand that plans can change. If you need to change or cancel your appointment, we kindly request that you provide us with at least 24 hours' notice for appointments that are an hour or less, and at least 48 hours' notice for appointments longer than an hour. Your cooperation allows us to make arrangements to fill any gaps in our appointment schedule and better serve all our clients. Appointments that are canceled outside of our specified cancellation window will be subject to a cancellation fee equal to 50% of the service cost.
PARKING
We have a handful of carparks available behind the salon on Cranford Street, as well as plenty of on-street parking on Oxley Avenue, a very short walk away.
We also have an accessible parking space for those with mobility issues - we ask that you please do not park here unless you have a mobility card. If you have short-term mobility issues and would like to park in our accessible space and you don't have a mobility parking card, please let our team know in advance. 
EXTRA GUESTS
In consideration of our limited space and the safety and enjoyment of all clients and staff, we kindly ask that you refrain from bringing extra guests (including infants and children) to your appointment if they are not receiving a service.
FOOD & DRINK
At H&B, we offer a wide range of beverage options, including tea, coffee, hot chocolate, and a variety of herbal teas. While you are more than welcome to bring your own cold food to your appointment, we kindly request that you avoid bringing hot food into the salon to ensure a pleasant environment for all, as the aroma can be distracting.
ENTERTAINMENT
While we no longer provide printed magazines in our salon, we offer an extensive selection of digital magazines on our tablets for your reading pleasure. Additionally, you are welcome to bring your own reading material. If you wish to watch videos on your phone, please remember to bring headphones to minimise noise and disturbance to other clients.
Out of respect for fellow clients and your stylist, we kindly request that you set your phone to silent during your appointment and avoid making phone calls. We appreciate your understanding and cooperation in creating a relaxing atmosphere for all our clients.
Please note that if you arrive for your appointment on your phone and an ongoing call delays your service, we will be unable to begin your appointment until the call has concluded. In such cases, if the call runs into your appointment time, it may be necessary to shorten the duration of your scheduled services.
Thank you for your continued support and for being a part of the H&B community. We look forward to serving you during this exciting summer season and beyond. If you have any questions or require further assistance, please do not hesitate to contact us.