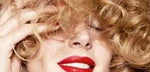 Calling all curly girls! Have you heard of the Curly Girl Method, or wanted to try it? Stay tuned for a discount code at the end of this post!
The Curly Girl Method (CGM) is a way of washing and treating your hair that enhances your natural curls. First coined by Lorraine Massey in the early 2000's; she encouraged everyone to embrace their natural hair with products free from silicones, sulphates, parabens, alcohols, etc.
The Curly Girl Method involves using no shampoo (or 'low-shampoo': a gentle shampoo containing none of the ingredients above) and using conditioner to cleanse and then fully hydrate the hair. Most people who follow the CGM use only a conditioner to wash (co-wash) their roots and scalp, and then use either the same or another conditioner for mid-lengths and ends. This is generally followed by a leave-in conditioner, a gel, a cream, or a mixture of all.
Certain hair drying techniques are used by curly girls; hair plopping ('plopping' your hair into a t-shirt or microfibre towel) and using a diffuser on your hairdryer are the most common.
Aside from the way products are applied, it is incredibly important (and often difficult) to ensure the products you are using are free from silicones, sulphates, alcohols, etc. These ingredients can cause curly hair to become frizzy, dry, and uncontrollable. There are limited products available in New Zealand to us CGM fanatics, so we were over the moon when the new La Biosthetique Botanique range landed in-salon!
The new Botanique range contains 3 CGM-approved products:
Gentle Volumising Shampoo: For those that choose to low-poo instead of co-wash, this is the product for you! Cleansing for roots and scalp, but gentle enough not to affect your curls
Gentle Conditioner: Perfect for co-washing, or using as a standard conditioner
Intense Mask: Perfect deep conditioning mask for when you need extra moisture!
To celebrate the launch of these products, we are offering a 10% off code for the whole Botanique range! Use code CURLYGIRL when checking out (valid for your first two purchases.)