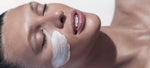 Traditionally seen as a teenage problem, acneic skin and oiliness can strike at any age. Whether you're 15 or 55, this can seriously impact your confidence. Left untreated, acneic skin can lead to increased visible signs of aging, enlarged pores, dull skin, and even scarring.
Acne is caused by excess production of sebum in the skins oil glands. This sebum usually travels through the pores to hydrate the skin and hair, but sometimes these pores get clogged by an accumulation of thickened skin in the openings. This means the excess sebum becomes trapped within the pores which encourages the bacteria responsible for acne (known as P. Acnes) to flourish. Stress, diet and hormone changes (including puberty, pregnancy and menopause) can all cause sebum production to accelerate, triggering or exacerbating acneic skin.
Treatment for acne can vary depending on its severity, but the best place to start is with proper skin care. It is important to cleanse, tone and moisturise the skin daily with products formulated to treat acneic skin. We love the La Biosthetique Methode Clarifiante range – it contains ingredients such as St Johns Wort, Witch Hazel and salicylic acid to keep the skin clean and pores clear while still maintaining the skins protective lipid layer. The cleanser, toner and moisturiser provide effective daily care to control acneic skin, while the spot treatment products such as Lipokan and Lotion Desincrustante are perfect for targeting breakouts.
We also recommend in salon treatments to help with impurities and acne. Regular facials with microdermabrasion are a great way to unclog pores and remove excess sebum and dead skin cells, while a mandelic peel is perfect for more advanced stage acne. IPL and dermal needling are also effective at treating acne and acne scarring.
If you'd like more advice on treating acne or any other skin concern, pop in and see one of our qualified beauty team for a personalised skincare plan.