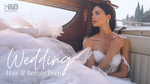 Weddings – they come in all shapes and sizes, and these days are as unique and varied as the couples getting married. However, one thing that most people have in common for their big day is that they want to look their absolute best when all eyes are on them.
With all the hustle and bustle in the lead up to the big day it's easy to overlook your hair and beauty needs, but luscious hair and glowing skin is rarely achieved by chance; for most people the key to looking fabulous is preparation. If you're wondering what the best treatments are to get you wedding-ready, and when you should be having them, we're here to help!
SKIN
You want to begin your wedding skin prep at least 6 months before your wedding day, by booking an appointment with a beauty therapist. They will have a chat to you about your goals for your skin, and come up with a treatment plan to help you achieve them. If you have any specific skin concerns you are wanting to target (like acne, for example), we recommend starting your skin journey earlier, around 12 months prior to the big day to allow more time for your skin to improve.
Your therapist will most likely recommend a combination of in-clinic treatments and at-home products suitable for your skin type and concerns – this is the most effective way to treat any skin issues. Products and treatments can also be used on other areas of your skin that may be exposed, like your décolletage or back. Services like microdermabrasion and sonophoresis are excellent for preparing the skin for a big event, and our Meder Beauty Science Hydra-Fill facial is ideal for the week of the wedding to hydrate the skin and smooth out fine lines and crinkles, creating an 'airbrushed skin' effect.
There are a few lifestyle changes you can make to speed up your skin journey. Minimising your consumption of salt, sugars and alcohol will leave your skin clearer and more radiant, as well as reducing puffiness. Ensuring you get enough essential fatty acids in your diet and drinking plenty of water will improve skin hydration from within, giving you that gorgeous glow.
Stress is also a huge factor in skin (and hair) health, and they say that planning a wedding is one of the most stressful things you can do! While easier said than done, managing this stress will be beneficial in the long run, both for your skin and your sanity. Taking a little time for yourself to do things you enjoy, regular movement and practicing mindfulness are all great ways to minimise stress.
HAIR
If you're planning on any changes to your cut or colour, it is best to do this as early as possible, and at least 3 months prior to the wedding. This gives you time to make any necessary adjustments before the big day, and for you to get used to your new look. 1 to 2 weeks before the wedding, have your stylist touch up your colour and give you a light trim to remove any split ends.
If you're concerned about the condition of your hair, ask your stylist to recommend some treatments, such as the Protection Cheveux Complexe treatment to repair damage, or a Keratin Blowout to reduce frizz and flyaways.
We always recommend booking a trial for your hair and makeup a few months before to ensure you and your stylist are on the same page, and that everything runs smoothly on the day of.
OTHER BEAUTY SERVICES
A natural looking spray tan can leave you looking healthier, but we've all seen what happens when a tan goes awry. If you are a novice to spray tanning, we recommend having a trial a few months in advance, and your final tan about 2 days prior to the wedding. Many brides choose to have their trial tan the day before their dress fitting, so they can see how the tan looks with the dress and decide if they are happy with the tone and depth, and make adjustments with their tanner if necessary.
No waxing services should be performed within 72 hours of the wedding – you want to allow time for any irritation and redness to subside.
At H&B we offer a full range of hair and beauty services to help you prep for your wedding, including hair styling and makeup services on the day. To find out more about our wedding services, email info@hairart.co.nz.