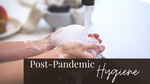 Our Commitment to You: 
In the wake of the global COVID-19 pandemic, we at H&B have been relentless in our pursuit to redefine salon experiences with your safety and well-being at the forefront. We've always valued our customers, and in these changing times, our commitment has only intensified.
Physical Sanitation: While cleanliness has always been paramount at H&B, we've taken things up a notch. We've introduced a rigorous schedule for disinfecting high-touch areas like door handles and our product shelves. Every tool we use, from scissors to brushes, undergoes a thorough cleaning with medical-grade sanitizers and is subjected to UV sterilization, ensuring a 99.9% germ-free environment.
Prioritizing Air Quality: Your safety extends beyond surfaces. Our HVAC systems are regularly inspected and maintained to provide optimum ventilation.
Team Health: Our family of dedicated professionals is the heart of H&B. Regular health checks and comprehensive training on personal hygiene ensure that every team member you interact with is in top condition and is well-versed with our enhanced safety protocols.
Your Voice Matters: Your feedback drives us. We continually adapt and refine our practices based on your valuable insights. Whether through social media, newsletters, or casual chats during your appointments, we want to hear from you. We're committed to maintaining an open channel of communication, ensuring you're always in the know about our practices.
In essence, while 2023 presents a transformed beauty landscape, our essence at H&B remains unchanged. We're here to offer you unparalleled beauty services, ensuring your safety, comfort, and satisfaction every step of the way. Welcome to the new era of beauty at H&B.