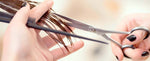 Split ends are, unfortunately, a problem that almost everyone has had to deal with; but there are measures you can take to eliminate them! The first tip that H&B recommends is to get regular haircuts; most people should be getting haircuts every 6-8 weeks, but let your stylist recommend what is best for you. On that point- don't try to cut your own hair! Scissors that are not specific hair cutting scissors have very different blades and are often a lot blunter. The dull blades will only make your hair more prone to splitting by fraying the ends.
Secondly, try and put down heated hair tools as much as you can. I'm not saying you need to throw away your straightener, but just try and limit how much you use it. The Cloud Nine Irons we stock in-salon are revolutionary when it comes to hair styling, as both the original and wide irons have adjustable heating temperatures, meaning you can change how hot you want the plates to be (lower temperatures mean less stress on your locks!)
You can also give your hair a boost with a weekly conditioning treatment. This will help hydrate your dry hair and banish those split ends! After washing your hair, you'll want to brush it as gently as possible. The Tangle Teezer hairbrushes are a god-send when it comes to easily and smoothly brushing out knots (side note- these brushes are PERFECT for kids- no tears when it comes to hair brushing!)
Our last tip is to be aware of what hair ties you use- if you avoid the bands with the metal bars, you'll avoid these parts catching and breaking your hair- opt for a softer one that isn't too tight!