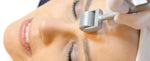 H&B are now offering Derma-rolling (skin needling) in salon today! Derma-rolling serves two main functions; firstly, it stimulates epidermal growth to provide stronger and healthier skin. Secondly, it stimulates the production of collagen, making skin tighter and firmer. Derma-rolling involves a hand-held roller with tiny needles that penetrate your skin causing 'micro-wounds', which are then filled and repaired by your body, stimulating the results mentioned above.
The treatment is minimally invasive, however it has been found safer than some other skin treatments such as chemical peels, laser treatments, etc. If you have scars, stretch marks, fine lines and wrinkles, or want to give your skin some firming, derma-rolling could be for you!
As every client is different, we do require you have a quick consultation with one of our amazing beauticians beforehand, as they can tailor a treatment plan to your skin needs.
Contact H&B on 03 3818939, info@hairart.co.nz, www.hairart.co.nz, or pop into the salon at 96 Cranford Street!