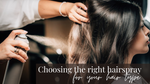 Just like most things in life, hairspray isn't a one-size-fits all. There are a huge variety of options available to keep your locks in place, and it can feel overwhelming finding the right one to suit your needs. Here's the tea on how to pick the right hairspray for your hair, every time.


One of the first things to consider is the hold-level of your hairspray – essentially this is how firmly it will keep your style in place. Hold levels vary from light hold all the way through to extra strong hold, and the style you are going for will determine which hold type is best for you.


Those with long hair and natural curls usually do best with a light hold hairspray, which will help keep the style in place without leaving the hair feeling tacky or crunchy. It still allows for the hair to move and flow, but will help keep frizzies and flyaways at bay.


Medium hold hairsprays are ideal for your medium and short styles like lobs, bobs and pixies, especially if your hair is fine to medium texture. They allow for less movement than a light hold spray, without being heavy or weighing down the hairshaft.


Strong hold hairsprays are your go-to for coarser, wiry hair types – this hair can have a mind of it's own, and needs something with more guts to keep it in shape. They're also great for finishing glamour waves and other event styling where you need the hair to stay firmly in place.


Extra strong hold hairsprays really only need to be used for things like bridal hair ups, where you'll be on the go all day, and need your gorgeous updo to last from morning to night. They are very firm hold, and can be too much for day to day use.
Another thing to consider is whether you would prefer an aerosol or non-aerosol hairspray. Aerosol sprays come out as a fine, wide mist that lightly coats the hair, while non-aerosols spray out a more targeted 'jet' of product. Aerosol sprays tend to be more lightweight on the hairshaft, so they don't weigh the hair down like a non-aerosol spray can – we typically recommend our finer hair clients avoid non-aerosol sprays.
Finally, it is important to look at how easy the spray is to remove. Ideally, for everyday use you want a spray that can be brushed out and reworked on the days you aren't shampooing, and that doesn't build up on the hairshaft over time (this can cause the hair to be lank, limp, and unable to hold a style). Extra strong hold lacquers are the most likely to cause build up in the hairshaft, so we recommend saving these for special occasion styling.


WE LOVE....
FOR VERY FINE, LONG, OR CURLY HAIR
La Biosthetique Formule Laque Fine is a light to medium hold hairspray with an extra fine mist, specifically formulated for clients with fine hair that is weighed down easily. It is also a fantastic option for curly or long haired clients who want a little control without feeling like they are wearing hairspray.

TO USE WHILE STYLING
La Biosthetique Molding Spray is a medium hold spray with a unique feature – it doesn't set immediately, letting you mould and shape the hair for up to 15 minutes after spraying it onto the hair. This makes it perfect for things like braiding and hair ups.

FOR FINE AND MEDIUM LOBS, BOBS AND PIXIES
La Biosthetique Formule Laque is a medium hold aerosol spray that can be layered into a firm hold. It is our go-to spray in salon, and works well on a variety of hair types.


FOR COARSE HAIR AND TO FINISH EVENT STYLING

La Biosthetique Formule Laque Ultra Strong is an ultra strong hold spray that has the strength to keep even wiry hair in place. It's also the ideal finishing step for hair ups and event styling where the style needs to stay perfectly in place throughout the whole day.


FOR CLIENTS WHO PREFER A NON-AEROSOL

La Biosthetique Spray Artistique is an ultra strong hold non-aerosol hairspray with a rapid drying time, so it's a great non-aerosol option for clients with coarser hair types.


All of the La Biosthetique hairsprays are brushable, easily shampooed out of the hair, and contain a UV filter to help protect against sun damage.
For advice on which hairspray is best for you, contact our friendly team.