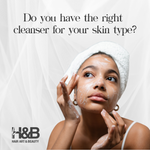 When it comes to taking care of your skin, choosing the right cleanser is crucial. With so many options available on the market, it can be overwhelming to find the perfect one for your specific skin type and concerns. That's where La Biosthetique skincare products come in. La Biosthetique offers a range of cleansers that cater to different skin types and needs, ensuring that you find the best match for your skin.
Before diving into the different cleansers, it's important to understand the different skin types and concerns. There are five main skin types: normal, oily, dry, combination, and sensitive. Normal skin is well-balanced with minimal imperfections, oily skin produces excess sebum, dry skin lacks hydration, combination skin has both oily and dry areas, and sensitive skin is prone to irritation and redness.
Once you've determined your skin type, consider your specific concerns. Do you have acne-prone skin? Are you trying to reduce fine lines and wrinkles? Do you struggle with hyperpigmentation? These concerns will help you narrow down the best cleanser for your skin.
For those with normal skin, La Biosthetique's Clair de Teint Jeunesse is a gentle cleanser that brightens, hydrates, and evens out your skin tone. With light-reflecting particles for a natural glow, it blurs imperfections and provides long-lasting results. Suitable for all skin types.
If you have oily skin, Clair de Teint Clarifiant is up to the task. This gel-based cleanser effectively removes excess oil and impurities from the T-zone, while still providing hydration to the drier areas of the face. 
For dry skin, La Biosthetique's Hyaluronic Acid Foaming Cleanser is a game-changer. Its gentle and effective formula cleanses away impurities while providing intense hydration with hyaluronic acid. The foaming texture makes for a luxurious and refreshing experience, leaving your skin feeling soft and revitalized.
If you have sensitive skin, La Biosthetique's Clair de Teint Sensitif is a gentle and effective option. Formulated with natural ingredients like cherry blossom extract and panthenol, it soothes and nourishes while removing impurities. Its pH-balanced formula helps to maintain the skin's natural barrier, leaving it feeling refreshed and radiant.
Combination skin can be tricky to manage, and we really recommend chatting to a beauty therapist to get the best recommendation for your skin. 
In conclusion, choosing the right cleanser for your skin type and concerns is essential for achieving healthy, glowing skin. With La Biosthetique's range of cleansers, you can trust that you're giving your skin the best possible care.