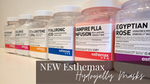 If you've had our 60 minute Revitalising Facial or our 90 minute Rejuvenating Facial recently, you may have already experienced our newest professional skincare product, the Esthemax HydroJelly masks!
These gorgeous peel-off face masks are paraben-free, clay-free, and infused with electrolytes to hydrate the skin and improve its ability to retain moisture. All of the masks are designed to improve barrier function, reduce inflammation and soothe the skin, plus each mask type contains various key active ingredients to target specific skin concerns such as fine lines and other visible signs of aging, pigmentation, acne, dryness and more – your beauty therapist will select the mask best suited for your needs after consultation.
The hydro-jelly masks are included in our Revitalising and Rejuvenating Facials, and can be added on to any of our other facial treatments (including LED facials!).